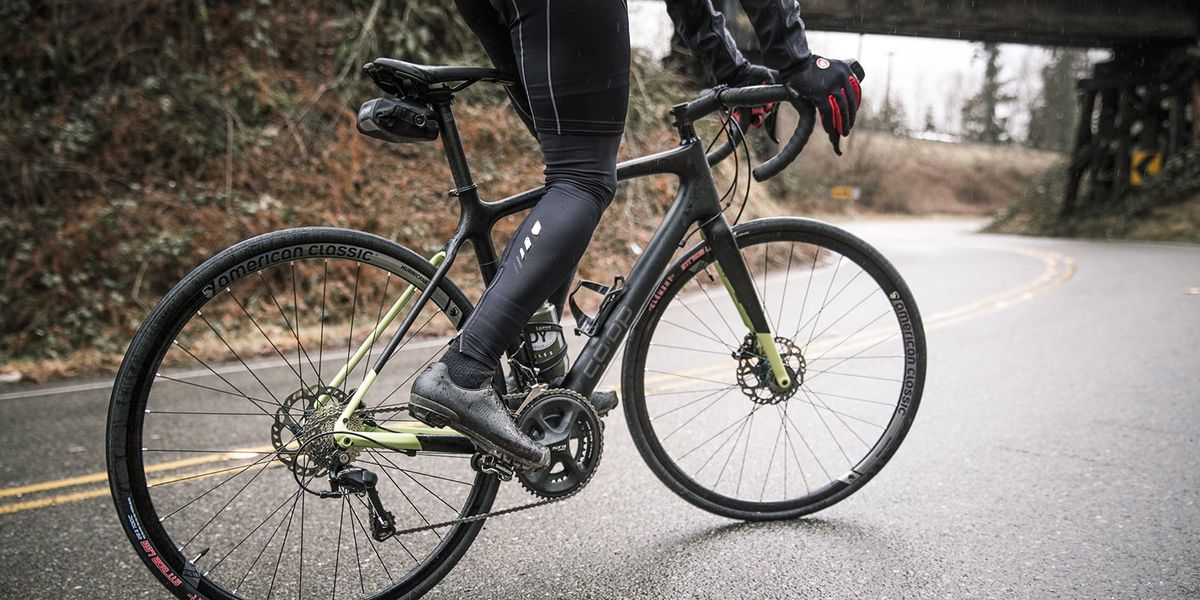 Road biking is a fun way to improve your fitness, meet up with new people and absorb your environs at a slower pace than possible from a speeding automobile. These bikes offer speed, agility and efficiency.
Before starting your search at DrBike or other quality bike shop, consider these questions:
What style of bike do you ride now?
What style of bikes do your friends ride and advise you to get?
What is your budget? Road bikes range from about RM1,000 up to RM10,000 or even more. Don't forget to budget for accessories such as bike shoes, clothing and basic repair equipment, too.
A knowledgeable bike specialist can give you the details on frame materials, frame geometry and components, so use this article as a starting point to help you have a more informed discussion. You may shop your road bike here.
Video: How to Choose a Road Bike
What Is a Road Bike?
First, here's a quick primer on what typically sets road bikes apart from commuting, touring, mountain and hybrid bikes.
Features
Very lightweight frame, wheels and components.
A drop (curled) handlebar, though some have a flat bar like a mountain bike.
Narrow wheels and tires.
A composite (carbon fiber) front fork.
No front or rear suspension.
Men's and women's styles and a wide range of sizes.
Function
Intended for fitness enthusiasts, event riders and competitive riders.
Designed for paved surfaces (roads, bike paths); not recommended for rough or unpaved surfaces.
Allows riders to go farther and faster than most other types of bikes.
Suitable for vehicle-supported multiday touring, though they're usually not designed to carry heavy loads.
Many road bikes do not have the rack attachment points which are found on urban, touring and commuter bikes. This is not to say you can't use a road bike for commuting; it just means that you may need to carry your gear in a daypack or messenger bag instead of in rack-mounted panniers.
Frame Geometry
Although road bike models may look similar to each other, there are subtle but important differences in the frame design.
At DrBike, you are most likely to find road bikes designed with a sport (recreational) geometry. These bikes are ideal if you plan to ride up to 3 times a week and log from 20 to 150 miles a week. They are also well suited for a longer organized event a few times a year. The riding position is more upright and the steering more relaxed than on a performance bike.
Road bikes with a performance (race) geometry appeal to the competitive rider. These bikes ask the rider to be more flexible and stretched out to improve aerodynamics, and they are more responsive to steering input. Performance bikes feature a stiffer frame, higher end components, lighter wheels and a steeper price tag.
Flat bar road bikes are similar to bikes with sport geometry but have a more upright riding position. This style of road bike is popular for commuting (easier to look about and observe traffic) or if you don't anticipate riding on the drops (lowest part of a curled bar) but still want a comparatively nimble bike. Flat bar road bikes are commonly equipped with entry- to mid-level components.
Buying tip: Select a bike with sport geometry unless you plan to use the bike for triathlons or road-bike racing.
Frame Materials
Your primary frame choices are aluminum or carbon fiber.
Most aluminum frames are very good at providing a smooth ride, and they are generally less expensive than carbon fiber. Most aluminum-frame road bikes come with a composite (carbon fiber) front fork to absorb some road vibration and give an improved ride quality.
A carbon-fiber bike frame generally provides a more comfortable, vibration-absorbing ride than an aluminum frame. They are more expensive than aluminum-framed bikes due to their labor-intensive manufacturing process. However, the ride quality can vary widely depending on the design of a specific frame, so don't assume superior results.
Buying tip: If you must have the lightest and strongest, then a carbon-fiber frame is going to appeal to you. If you tend to ride for fun and fitness without aspirations of being the fastest, then an aluminum frame will suit you well.
Key Bike Components
This refers to all of the parts that are attached to a bicycle frame. Major components include:
Drivetrain (crankset, rear cassette, chain, derailleurs, brake levers, gear levers).
Wheels (rims, hubs, axles, spokes).
Brakes, handlebars, seat and seatpost, pedals.
Groupsets
You may sometimes hear components referred to as a groupset (or the Italian gruppo). A groupset is a set of matching components from a component manufacturer. A bike model with a groupset has a refined, stylish and consistent appearance compared to a bike containing a miscellaneous assortment of components.
The groupset is a commonly used shortcut to define the quality of a bike and to compare different bikes. Shimano and SRAM are the most popular component suppliers of drivetrains. The table below offers a comparison of their current groupset models.
| | | |
| --- | --- | --- |
| Intended Use | Shimano Models | SRAM Models |
| Entry level | Sora | |
| General use level | Tiagra | Apex |
| Mid-range level | 105 | Rival |
| High-end enthusiast level | Ultegra | Force |
| Pro race level | Dura Ace | Red |
Cranksets and Gearing
Discussion on road bikes often turns to the gearing. Let's start with the crankset. This is the componentry that the pedals turn and that rotate the rear wheel via the chain.
A road bike will have either a triple, double or compact crankset. This refers to the number and size of chainrings (located by the pedals).
A triple crankset has 3 chainrings; it is often paired with a 9-speed cassette on the rear wheel to give it a total of 27 gears. This configuration is most common on entry-level road bikes and provides a wide range of gears for cyclists.
Double and compact cranksets both have 2 chainrings up front and are paired with a 10-speed cassette in the back for a total of 20 gears. A compact crankset has smaller chainrings with fewer teeth than a double, giving it a lower range of gears.
A compact crankset is a common arrangement on bikes with a sport geometry, as it gives a similar range of gears (from low to high) as a triple but for less weight. A compact or double crankset also offers better heel clearance to the crank arm than a triple crankset, which prevents the potential issue of annoying shoe rub on each turn of the pedals.
Buying tip: If you are new to road cycling or you're going to be riding up steep hills or canyons, you will want a triple or compact crankset. Strong cyclists and flat-land cyclists may prefer a double.
Chainring Teeth
| | | | | |
| --- | --- | --- | --- | --- |
| Crankset | Chainring Teeth | Rear Cassette | Total Gears | Usage |
| Triple | 50 / 39 / 30 | 9 speed | 27 | Common on entry-level bikes |
| Compact | 50 / 34 | 10 speed | 20 | Most common on recreation bikes |
| Double | 53 / 39 | 10 speed | 20 | On some performance bikes |
The range of teeth on the rear cogs (cassette) also influences the gearing range of a bike. The highest gear (smallest cog) will have 11 or 12 teeth. The lowest gear (largest cog) may range from 23 to 28 teeth, or up to 32 teeth in the case of the SRAM Apex model.
The SRAM Apex drivetrain is a recent innovation that offers a gearing range greater than that of a triple, but it uses a compact crankset. This is achieved by having more teeth on the rear cassette than has previously been possible on road bikes, due to a change in the rear derailleur design.
Changing the rear cassette is a relatively inexpensive way to change your bike's gearing, but there are potential compatibility issues. Talk to a bike shop mechanic if you want to change the gearing on your bike.
Wheels
Wheels have a major impact on the following:
The weight of the bike.
How well a bike accelerates and carries momentum.
Bike aerodynamics and handling in wind.
Unless you choose a custom-built bike, you don't get a choice of wheels when you buy a bike. You can, however, choose to upgrade to a better quality wheelset once you own the bike. As with all things cycling, the higher up a bike is in its model range, the lighter and faster the wheels will get. Recreational and fitness riders are less likely to concern themselves with the wheel choice than competitive cyclists, who can totally geek out over wheel selection.
Buying tip: A wheelset upgrade is widely considered the best return on investment for decreasing bike weight and increasing its responsiveness.
Pedals
A common question from those shopping for a road bike: "Where are the pedals?"
Basic models may come with platform pedals, often with toe cages, but nearly all higher-end models are sold without pedals. It seems odd, for sure. The assumption by bike makers is that a road cyclist is likely to already have a preferred pedal system for use with his or her existing cycling shoes. This logic lets you make the decision instead of requiring the bike shop to exchange perfectly fine pedals for a different brand or model.
If you want to pedal efficiently and be at one with your bike, you should use cycling shoes and clip-in (a.k.a. clipless) pedals. Not doing so is like fueling a high-performance sports car with low octane gas—it will still go, but will lack oomph. Pedals come in a number of popular brands (including Shimano, Look, Time and Speedplay) and a range of models within each brand. A higher price indicates better bearings, lower friction and less weight.
Brake Levers and Gear Shifters
Once upon a time, these were completely separate mechanisms located on different parts of the bike. Now they are often integrated. The exact mode of operation can vary by the brand and model.
By test riding different bikes, you may develop a personal preference for the functioning of one style over another. With Shimano models, the brake lever doubles as one of the gear shifters. With SRAM models, the gear shifter is a smaller lever tucked in behind the brake lever and is independent of the brake mechanism.
Buying tip: Be sure you can maintain a good grip on the handlebars while braking or changing gears. Try shifting and braking with your hands on top of the bars as well as in the drop position. If you have smaller hands, ask if the levers have reach adjustment and how that works. It could be a simple screw adjustment or a shim addition.
Getting the Correct Frame Size
Most road-bike models are available in up to 6 different frame sizes, with women's specific frames often offered as well. It is important to get the right frame size for your body geometry. The correct frame size for you will be noticeably more comfortable and exhibit better handling manners than a frame that is too large or small.
Frame sizes may be expressed either in centimeters—which measures the length of the seat tube—or the more generic XS through XL size range. Be aware that women's and men's bikes with the same stated frame size are not the same frame. A woman's frame will be shorter along the top tube, as women typically have both a shorter torso and shorter arm length than a man of the same height.
How do you find out what frame size suits you? An experienced bike salesperson can often tell by looking at your proportions, but many bike stores including DrBike use a fitting system or calculator such as the Bike Fit Kit to determine a suitable frame size for you.
Your bike salesperson should also ask you questions about your current riding experience, flexibility, riding style and intentions in order to provide a more nuanced frame size recommendation. Although standover clearance over the top tube is important, the more critical determinant of size is the length of the bike, as this affects the reach from seat to handlebars.
Simply being measured to determine your recommended frame size is not the same as a bike fit. It is just the starting point. Read more about bike fit near the end of this article.
Bikes and Bucks
In comparison to your other transportation options, bicycles offer tremendous value for the money. Bike brands are highly competitive, too. The full retail price (not an inventory closeout price) of a bike offers a good basis for comparison between brands and models.
The biggest factors affecting the price of a bike are the:
Frame material
Quality of the components
A carbon-fiber frame will cost you more than an aluminum or steel frame, and higher quality components will cost more than basic components. To justify spending more, first consider: a) what you can afford, and b) if you intend to regularly use the equipment. Try to clearly identify your needs and intentions and what level of bike quality will keep you satisfied.
Buying tip: It usually costs less money in the long run to buy a higher quality bike now than it does to buy a less-expensive bike and upgrade the components later.
Keep in mind that you may need to set aside another RM400 to RM1000 for a set of pedals and the same for a pair of cycling shoes. Other basic accessories include:
| | |
| --- | --- |
| Rider Accessories | Bicycle Accessories |
| Helmet | Tire repair kit |
| Shoes | Spare tubes |
| Gloves | Seat bag |
| Shorts | Tire mini-pump |
| Jersey | Tire floor pump |
| Wind vest or jacket | Chain lube |
| Water bottle | Bike cleaning kit |
| | Bike multi-tool |
| | Water bottle cage |
| | Bike computer |
At the Bike Shop
Take Test Rides
Ask if you can test ride several bikes. With the help of a sales specialist, you should be able to narrow down your selection to 2 or 3 bikes. Even though they may have similar prices and components, they will feel different to ride. Take each for a 10-15 minute ride, ideally over some varied terrain including a short hill. In most cases, one bike is just going to feel better for you than the others. You want a bike to become a natural extension of your body.
Buying tip: Go with the bike that feels right. Ideally, it should be suitable for your current needs as well as when your riding time and experience level increase.
Get Fitted for Comfort and Efficiency
The correct frame size is a starting point for a good bike fit. The other mandatory step is having the bike shop check and set the proper seat height for you before you head out the door.
The next step up is to invest in a professional bike fitting. This allows you to turbo-boost your riding experience by fine tuning your relationship with the bicycle. This service is offered by some stores and independent bike stores.
A professional fitting includes observation, measurement and adjustment to set your shoe cleat position, seat height and horizontal positioning, reach and drop to the handlebars, and body angles in relation to the bike. The goal is to optimize your comfort on the bike and reduce or eliminate any aches and pains. It also enhances your pedalling efficiency and bike handling so you can better enjoy your riding.
Getting Out There
While there are road rules to abide by and riding etiquette to learn, much of the road-riding experience is up to you to create. You may enjoy riding on your own, with a group of friends, in organized club or group rides, or as a member of a team (racing or fund raising).
You can ride for 30 minutes or 6 hours. Let your available time and fitness goals as well as daylight, weather and road conditions influence your choices. If you are new to road riding, try to find a local cycling club or some willing and able friends to provide guidance.
Have fun!
Reference: https://www.rei.com/learn/expert-advice/how-to-choose-road-bikes.html